[[ETA: Update 2008: Blue Lagunas FFX FMVs archive includes higher-resolution .avis of all cutscenes]]

I'm not quite comfortable with copyright trespass of this magnitude, and yet, if you already paid for FFX and own it, I don't have many objections to downloading it in a different format. Someone has gone through and sucked up all the dialogues and conversations, not just the FMVs.

The footage is available on
vg_footage. (Search for ffx tag) The files are HUGE. I have gone through and made notes on what happens when. At first I was just hunting for good Auron and Lulu scenes, and skipped over Tidus stuff that didn't interest me. Later on I started keeping track of all of it.


Zanarkand and arrival in Spira. (File 1)

ffx_0001.avi 0:07:30 opening FMV: Blitzball game, Sin attacks.
ffx_0001.avi 0:08:10 FMV, Auron's first appearance.
ffx_0001.avi 0:10:25 After stadium collapses. "Auron! What are you doing here?" "I was waiting for you."
ffx_0001.avi 0:12:00 Auron leading Tidus, brief FMV: "We called it Sin." Tidus' first battle.
ffx_0001.avi 0:20:30 FMV, Auron letting Sin suck them into Spira. "This is your story."
ffx_0001.avi 0:34:45 Arrival of Rikku and Al Bhed.
ffx_0001.avi 0:39:00 On Al Bhed ship.
ffx_0001.avi 0:49:00 Back on deck after salvage operation. Conversation with Rikku.


Besaid (File 2)

ffx_0002.avi 0:00:30 Meeting Wakka and Aurochs on beach.
ffx_0002.avi 0:13:00 First encounter with Luzzu and Gatta.
ffx_0002.avi 0:15:30 Crusaders' Lodge. Luzzu and Gatta explain stuff.
ffx_0002.avi 0:18:30 Tidus visits temple of Besaid.
ffx_0002.avi 0:21:00 Flashback/dream to Tidus' mom.
ffx_0002.avi 0:23:00 Tidus barges into Cloister of Trials.
ffx_0002.avi 0:28:00 Encounter Lulu and Kimahri outside of Chamber of Fayth.
ffx_0002.avi 0:29:00 FMV, meeting Yuna.
ffx_0002.avi 0:31:00 Yuna demonstrates Summoning Valefor.
ffx_0002.avi 0:34:00 First convo between Yuna and Tidus.
ffx_0002.avi 0:38:00 FMV, Lulu bawling out Wakka by the campfire. "You shouldn't have brought him here in the first place!"
ffx_0002.avi 0:41:00 Leaving Besaid. Lulu: "That's the sword you gave Chappu." // "You really don't need all that luggage."
ffx_0002.avi 0:43:30 Combat tutorial about Black Magic. "Clueless, aren't you. Good thing I'm here."
ffx_0002.avi 0:44:30 Farewell to Besaid."Take your time."
ffx_0002.avi 0:46:10 Kimahri attacks Tidus.

Voyage to Kilika (File 3)

ffx_0003.avi 0:01:40 Explaining the trip aboard ship, Lu being sarcastic. "Great plan."
ffx_0003.avi 0:02:40 Lulu: "Wakka's a bit lacking in the imagination department."
ffx_0003.avi 0:05:25 Lulu: "I don't know who you are, or where you came from."
ffx_0003.avi 0:09:30 Sin attacks ship.
ffx_0003.avi 0:20:10 FMV: Sin attacking Kilika.
ffx_0003.avi 0:24:30 On docks of Kilika, Lulu explains to Tidus about Sending. "You truly are clueless."
ffx_0003.avi 0:26:00 FMV: Yuna dancing and Sending the dead.
ffx_0003.avi 0:28:10 Lulu, after Sending: "All we can do is protect her along the way." // "No tears next time, hm?"
ffx_0003.avi 0:31:45 Conversation in forest about Tidus. Lulu: "Yuna's saying she wants you with us."


ffx_0003.avi 0:45:30 Lulu yells at Wakka on steps for thinking Chappu could come back. "It's pointless to think about it, and sad."
ffx_0003.avi 0:49:30 Encounter Dona and Barthello.
ffx_0003.avi 0:51:50 In the temple, Tidus left outside the Cloister of Trials. "You're not a Guardian yet."
ffx_0003.avi 0:57:40 Tidus rejoins party outside Chamber of Fayth. "Yuna will be the one to suffer the consequences!" Lulu explains about the Fayth.

Luca (file 4)

ffx_0004.avi 0:00:40 Back on the ship, Lulu and Wakka slip away for a private convo.
ffx_0004.avi 0:04:00 Lulu/Wakka have long conversation about Tidus on upper deck.
ffx_0004.avi 0:07:00 Jecht Shot mini-game.
ffx_0004.avi 0:13:20 FMV, arriving in Luca.
ffx_0004.avi 0:18:00 Arrival of Mika and Seymour.
ffx_0004.avi 0:29:00 Tidus and Kimahri in the bar, meet Biran and Yenke.
ffx_0004.avi 0:32:40 Luca. Lulu comes looking for Tidus after Yuna's kidnapped by Al Bhed. "Where in Spira have you been?"
ffx_0004.avi 0:39:25 Luca, passing a TV monitor and noticing the game. Lulu: "He won't last."
ffx_0004.avi 0:40:00 Luca; Kimahri, Lulu, and Tidus reach Al Bhed ship, fight ball machine.
ffx_0004.avi 0:43:00 Reunited with Yuna. Lulu: "I hope you hurt them."
ffx_0004.avi 0:46:00 Watching game on monitor again. "Not the most graceful win." // "You don't want to finish that sentence."
ffx_0004.avi 0:49:55 Lulu catching Wakka when he passes out in the locker room.
ffx_0004.avi 0:51:10 Auron enters Luca stadium. Announcer: "This looks like history in the making." Game starts.
ffx_0004.avi 1:10:25 FMV, Legendary Hero Returns.
ffx_0004.avi 1:15:35 After battle, Yuna, Wakka, Lulu discussing what happened at stadium.


Mi'hen Highroad (File 5)

ffx_0005.avi 0:00:00 Auron and Tidus reunited, long conversation on dock. "Sin is Jecht."
ffx_0005.avi 0:05:20 Auron offers his services to Yuna outside Luca.
ffx_0005.avi 0:15:50 On the road, Tidus wants to hunt the chocobo eater. "It's the right thing to do." Auron laughs at him.
ffx_0005.avi 0:30:00 Arrive at Rin's Travel Agency.
ffx_0005.avi 0:36:00 Sunset sequence, Auron butts in on Yuna and Tidus to shoo Yuna to bed.
ffx_0005.avi 0:37:30 Next morning, Auron calls Tidus outside to fight the chocobo eater.

ffx_0005_extra.avi Auron gives Tidus a hard time for fighting the chocobo eater if they lose.

Operation Mi'hen (File 6)

ffx_0006.avi 0:01:10 First meeting with Seymour at gate to Mushroom Rock Road. S. asks where Auron's been for ten years. "I've got nothing to say about it."
ffx_0006.avi 0:11:00 Mushroom Rock Road, Luzzu, Wakka, and Lulu talk about Chappu. Wakka punches Luzzu. Notice who's standing by Lu.


ffx_0006.avi 0:15:30 Lulu explains why Wakka hates Al Bhed (Chappu using machina).
ffx_0006.avi 0:18:25 Auron tells Gatta about learning to follow orders.
ffx_0006.avi 0:19:00 Command center: Auron and Kinoc catch up with each other.
ffx_0006.avi 0:30:30 FMVs: Sin arrives.
ffx_0006.avi 0:32:00 Yuna, Seymour, and Auron fight boss.
ffx_0006.avi 0:41:50 FMV of Al Bhed gun getting destroyed by Sin.
ffx_0006.avi 0:44:30 Tidus finds Gatta on beach, turns and chases after Sin. (FMV of Sin leaving.)
ffx_0006.avi 0:47:30 Flashback: Tidus as a boy pleading with Jecht to stop drinking.
ffx_0006.avi 0:49:30 Auron finds Tidus after the battle. "I see you're still here." Small convo with Kinoc. "Satisfied?"
ffx_0006.avi 0:52:00 Auron explains to Tidus about Sin. "He wants you to stop him."

Djose and Moonflow (File 7)

ffx_0007.avi 0:03:20 On road to Djose, Auron stops Tidus and tells him not to tell Yuna about Sin. "Hey, new guy."
ffx_0007.avi 0:05:40 Arrival at Djose temple. Convo with Luzzu about Gatta's death.
ffx_0007.avi 0:17:50 reach chamber of fayth, Dona shows up, Barthello shakes Auron's hand. Lulu: "And you call yourself a Summoner?"
ffx_0007.avi 0:23:00 Auron: "Once Lady Yuna fixes her hair, we'll leave." Everyone teasing the Summoner.
ffx_0007.avi 0:35:30 pyreflies over the Moonflow.
ffx_0007.avi 0:44:00 Shoopuf ride. Discussing Machina war, Yuna kidnapped.
ffx_0007.avi 0:54:00 Rikku arrives.


ffx_0007_extra.avi Alternate sequences if Luzzu dies and Gatta lives.

Guadosalam, Thunder plains (File 8)

ffx_0008.avi 0:05:00 In Maester Seymour's manor. Lulu explains about Lord Jyscal.
ffx_0008.avi 0:06:20 Auron on Maesters. "Those with power, use that power."
ffx_0008.avi 0:06:50 Lulu explaining things again. Good close-up.
ffx_0008.avi 0:09:50 FMV: Seymour shows off Zanarkand-sphere. Proposes.
ffx_0008.avi 0:14:00 Auron growls at Seymour after his proposal. "Spira is no playhouse."
ffx_0008.avi 0:18:50 Entering the Farplane. Auron won't go in.
ffx_0008.avi 0:22:20 Lulu facing Chappu on Farplane.
ffx_0008.avi 0:27:45 Lord Jyscal emerges from Farplane, Auron in pain from Sending.
ffx_0008.avi 0:29:50 Long convo between Tidus and Lulu about love and marriage.
ffx_0008.avi 0:45:00 In Travel Agency on Thunder Plains, Rin and Auron bump into each other. Rin alludes to their last encounter.
ffx_0008.avi 0:53:00 Yuna calls Guardians together on Thunder Plain to tell them she's marrying. (Lulu starts to figure out what Yuna's up to.)
ffx_0008.avi 0:58:00 Arrive in Macalania woods. Auron takes Tidus aside to discuss Yuna for a moment.

EXTRA LULU:
ffx_0008_extra2.avi Lulu returns to the Farplane looking for Lady Ginnem.

Macalania (file 9)

ffx_0009.avi 0:04:10 Auron tells Barthello to calm down after Dona vanishes. "Guard your emotions, then guard your Summoner."
ffx_0009.avi 0:08:30 Auron takes Tidus to find first Jecht sphere.
ffx_0009.avi 0:13:30 Viewing 1st Jecht sphere.
ffx_0009.avi 0:18:20 Auron stops Tidus privately afterwards to tell him "Jecht loved you."
ffx_0009.avi 0:30:00 After Al Bhed attack, Rikku reveals she's Al Bhed, Wakka flips.
fffx_0009.avi 0:31:20 Auron hops a snowmobile. Lulu snowmobile scene follows.
fffx_0009.avi 0:38:00 Lord Jyscal's sphere. Auron's not optimistic about Yuna's chances.
fffx_0009.avi 0:40:30 Auron to Wakka: "We will protect Yuna from anyone, even a Maester..." // Lulu "If he is truly at fault, it must be done."
fffx_0009.avi 0:41:00 Showdown with Seymour.
fffx_0009.avi 1:00:00 Auron: "RUN!" Fleeing temple.
fffx_0009.avi 1:08:30 Under the lake ice. Lulu being collected. Auron being crusty.

ffx_0009_extra1.avi Rikku on snowmobile
ffx_0009_extra2.avi Auron on snowmobile
ffx_0009_extra3.avi Kimahri on snowmobile


Bikanel Island (File 10)

ffx_0010.avi 0:01:30 Tidus fighting alone in desert, Auron shows up to save his butt, Lulu arrives soon after.
ffx_0010.avi 0:02:30 fight's over, Auron and Lulu regroup with Tidus.
ffx_0010.avi 0:15:00 arrival at Home. (most of these battles are played out)
ffx_0010.avi 0:22:30 Wakka comforts Rikku about Home being lost.
ffx_0010.avi 0:25:15 Lulu asks Rikku what the Summoners Sanctum is. Dramatic angst on the staircase.
ffx_0010.avi 0:27:30 In the Summoners Sanctum. Tidus' head explodes.
ffx_0010.avi 0:36:00 Airship takes off.
ffx_0010.avi 0:40:00 Destroying Home.
ffx_0010.avi 0:48:00 Auron and Cid argue about Yuna's pilgrimage.
ffx_0010.avi 0:54:00 Evrae appears. "The red carpet has teeth." // "The ferryman asks a high price."

Bevelle (File 11)

ffx_0011.avi 0:06:30 Reach stairs below Yuna and Seymour, held at gunpoint.
ffx_0011.avi 0:08:50 Seymour's icky kiss.
ffx_0011.avi 0:11:30 Yuna: "Believe. I can fly." FMV
ffx_0011.avi 0:13:00 Reach temple. Lulu: "It's too quiet. A trap."
ffx_0011.avi 0:24:30 reunited with Yuna in Temple after Trials
ffx_0011.avi 0:25:50 Auron in Chamber of the Fayth: "The dead should be allowed to rest."
ffx_0011.avi 0:27:20 Trial of Yuna
ffx_0011.avi 0:33:50 Kinoc/Auron before Via Purifico. "What person would execute a dear friend?" "You would."
ffx_0011.avi 0:38:00 Finding Lulu in Via Purifico
ffx_0011.avi 0:40:30 Finding Auron in Via Purifico
ffx_0011.avi 0:48:00 Isaaru defeated
ffx_0011.avi 0:52:30 Party reunited, run-in with Seymour, Kinoc's murder

Calm Lands (File 12)

ffx_0012.avi 0:2:20 Yuna and Tidus at lake
ffx_0012.avi 0:8:40 Suteki da Ne FMV
ffx_0012.avi 0:15:30 Arrival at the edge of the Calm Lands
ffx_0012.avi 0:17:40 Maechen tells about Calm Lands
ffx_0012.avi 0:19:50 Rin's Travelling Agency
ffx_0012.avi 0:21:30 Travel Agency, Father Zuke (note: half a year ago was Zuke's pilgrimage)
ffx_0012.avi 0:26:00 Tidus and Yuna imitating Auron
ffx_0012.avi 0:28:40 sightseeing: peering into the gorge with Svandia
ffx_0012.avi 0:32:00 reach far side of Calm Lands, boss battle with Guado machina
ffx_0012.avi 0:37:00 arriving at Cavern of Fayth
ffx_0012.avi 0:39:30 Explanation of Stolen Fayth's backstory
ffx_0012.avi 0:42:25 Arrive at Yojimbo's sanctuary/Lady Ginnem
ffx_0012.avi 0:45:25 Aftermath of Yojimbo/Ginnem fight
ffx_0012.avi 0:49:20 Leaving the Calm Lands

Mt. Gagazet (File 13)

ffx_.0013.avi 0:00:30 Negotiations with Ronso, Maester Kelk
ffx_.0013.avi 0:02:00 Lulu and Auron intervene with a few reasoned words
ffx_.0013.avi 0:06:44 Biran and Yenke fight Kimahri
ffx_.0013.avi 0:12:00 Ronso promise to make Yuna's statue
ffx_.0013.avi 0:13:00 Ronso sing Hymn of the Fayth
ffx_.0013.avi 0:14:40 paying respects to dead Summoners/Guardians
ffx_.0013.avi 0:15:20 Braska's sphere to Yuna
ffx_.0013.avi 0:17:00 Lulu talks a bit more about dead Summoners/Guardians
ffx_.0013.avi 0:18:00 Wans, the brother of O'aka
ffx_.0013.avi 0:20:00 Tidus and Rikku talking. Rikku: "hey, just now, you sounded like a leader." Then Seymour shows up. Tidus sends Rikku ahead to fetch everyone.
ffx_.0013.avi 0:30:00 defeat Seymour. Yuna, quoting: "If he becomes Sin, Jecht will be free." Auron: "Lies." Yuna yells at Auron for hiding something. Tidus breaks down and explains about Jecht.
ffx_.0013.avi 0:32:47 Reach Wall of the Fayth. Tidus goes into dream-Zanarkand.
ffx_.0013.avi 0:41:00 Enter cave in Gagazet
ffx_.0013.avi 0:48:00 Auron tells Yuna that Yunalesca's waiting for them
ffx_.0013.avi 0:49:00 Sanctuary Guardian battle
ffx_.0013.avi 0:57:00 Defeat boss. Rikku worried about Yuna. Auron, Tidus, and Wakka talk about Auron's last pilgrimage. "Legendary Guardian? I was just a boy. I thought I could change the world. But I changed nothing. That is my story."



Zanarkand (File 14)

begins with Zanarkand overlook FMV. "A city dead for a thousand years."
ffx_0014.avi 00:03:00 Yuna's sphere
ffx_0014.avi 0:10:20 repeat of opening sequence in Zanarkand ruins ("This... may be our last chance.")
ffx_0014.avi 0:14:30 Wakka: "Looks like the Farplane." Auron: "Close enough."
ffx_0014.avi 0:15:30 reach front entrance to Dome and the gatekeeper.
ffx_0014.avi 0:16:20 Flashback: Lady Yocun's Guardian
ffx_0014.avi 0:17:50 Flashback: young Seymour
ffx_0014.avi 0:18:30 Flashback: Braska, Auron, and Jecht. Auron says he can't accept Braska's sacrifice.
ffx_0014.avi 0:37:20 After boss battle, Yuna takes elevator down to Hall of the Final Summoning.
ffx_0014.avi 0:39:00 Tidus to Auron, after they find empty Fayth statue: "Auron, you knew this was going to happen, didn't you?"
ffx_0014.avi 0:40:00 Meeting Lady Yunalesca.
ffx_0014.avi 0:41:40 Flashback: Braska entering Chamber of Final Summoning, Jecht choosing to become Final Aeon, Auron pleading with them.
ffx_0014.avi 0:44:30 Auron loses it on his own ghost.
ffx_0014.avi 0:44:50 Lulu volunteers to be Final Aeon.
ffx_0014.avi 0:47:00 Second conversation with Lady Yunalesca.
ffx_0014.avi 0:48:40 Flashback: Auron tries to kill Yunalesca.
ffx_0014.avi 0:51:30 Auron: "Now! This is it. Now is the time to choose."
ffx_0014.avi 1:03:30 Defeat Yunalesca.
ffx_0014.avi 1:05:20 Auron takes Tidus aside and shows him his memories. "Don't make that face. Being dead has its advantages."
ffx_0014.avi 1:09:00 Leaving Zanarkand Dome. Sin waiting, airship arrives.


Side Quests 1 (File 15a)

ffx_0015a.avi 0:00:00 Return to Zanarkand dome to get Magistral Rod
ffx_0015a.avi 0:03:30 Baaj Temple to get Anima
ffx_0015a.avi 0:08:30 Seymour's mother
ffx_0015a.avi 0:13:30 Return to Calm Lands and Remium Temple, to fight with Belgemene. Includes all Aeons.
ffx_0015a.avi 0:32:00 Farewell to Belgemene.
ffx_0015a.avi 0:33:00 Omega Ruins
ffx_0015a.avi 0:42:50 Boss fight with Omega. Auron: "It seems we rate his personal attention now."
ffx_0015a.avi 0:46:50 Auron: "Find your peace on the Farplane. Leave Spira to the living."

Side Quests 2 (File 15b)

ffx_0015b.avi 0:00:00 Besaid Island, catching up with Luzzu. Tidus refuses to pray.
ffx_0015b.avi 0:01:20 SS Winno, catching up with Clasko.
ffx_0015b.avi 0:02:30 Luca, Sphere theater, catching up with O'aka.
ffx_0015b.avi 0:03:45 Djose Temple, catching up with Dona and Barthello.
ffx_0015b.avi 0:04:30 Bevelle, Catching up with Maroda and Pacce, brothers of Isaaru the Summoner.
ffx_0015b.avi 0:05:20 Return to Guadosalam. Confrontation with Tromell. Guado all in mourning.
ffx_0015b.avi 0:08:25 Lulu talking to Lady Ginnem on the Farplane.
ffx_0015b.avi0:09:25 Ronso village. Maechen tells a lot of the backstory of the Machina War, Sin, the Hymn of the Fayth, Summoner Yevon.

VISITING AEONS.
ffx_0015b.avi 0:13:25 Speaking to Fayth of Valefor.
ffx_0015b.avi 0:14:15 Speaking to Fayth of Ifrit. (tells about how Jecht met Sin)
ffx_0015b.avi 0:15:00 Speaking to Fayth of Ixion. "Come, and we'll run to the dream's end."
ffx_0015b.avi 0:16:00 Speaking to Fayth of Shiva. "Should the dreaming end, you, too will disappear." "Let us summon a new sea for you to swim." -- hints of X-2 plot
ffx_0015b.avi 0:17:00 Speaking to Fayth of Yojimbo. "You are a fading dream, but one touched by reality. Spira will not forget its reality, or the one who saved it."
ffx_0015b.avi 0:17:50 Speaking to Fayth of Magus Sisters.

GETTING FINAL WEAPONS
ffx_0015b.avi 0:20:00 Remien Temple chocobo race.
ffx_0015b.avi 0:23:30 visiting family in Macalania woods to get Celestial Mirror.
ffx_0015b.avi 0:26:00 getting weapons.
ffx_0015b.avi 0:27:00 getting Auron's weapon.
ffx_0015b.avi 0:27:30 Chocobo training.
ffx_0015b.avi 0:33:00 Getting Tidus' weapon.
ffx_0015b.avi 0:33:40: Butterfly hunt, AUGH.
ffx_0015b.avi 0:36:40 Getting Kimahri's weapon.
ffx_0015b.avi 0:39:00 Getting Lulu's weapon.
ffx_0015b.avi 0:40:00 Cactuar hunt. (including one on airship)
ffx_0015b.avi 0:44:30 Entry to Cactuar village, getting Godhand.
ffx_0015b.avi 0:45:30 activating all weapons.


Sin (file 16)

ffx_0016.avi 0:00:00 Assemble on bridge just after leaving Zanarkand for the first time. Cid pans across the party, including...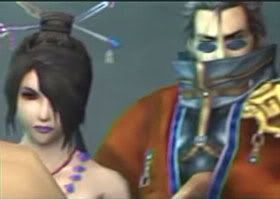 (Dramatic silences between Cid and Yuna. Party discusses how to defeat Jecht)
ffx_0016.avi 0:04:30 Yuna, Tidus and Kimahri brainstorm
ffx_0016.avi 0:06:40 Wakka, Lulu, and Rikku present their plan
ffx_0016.avi 0:09:00 Bevelle, meeting with Shelinda, Mika.
ffx_0016.avi 0:10:00 Auron, on hearing Shelinda is captain of the guard: "Short on believers?"
ffx_0016.avi 0:11:30 meeting with Mika. "Who's Yu Yevon?"
ffx_0016.avi 0:14:30 meeting with Bahumut's Fayth, discussing how Yu Yevon works.
ffx_0016.avi 0:18:20 Yuna gives Tidus a hard time about being a bad liar.
ffx_0016.avi 0:20:00 Preparing to fight Sin. Wakka apologizes to Cid.
ffx_0016.avi 0:22:30 Ship singing.
ffx_0016.avi 0:23:00 Sin appears, and attack commences.
ffx_0016.avi 0:28:00 FMV of Sin doing really psychedelic stuff.
ffx_0016.avi 0:39:30 battle with Sin.
ffx_0016.avi 0:38:00 FMV: shooting arm off Sin.
ffx_0016.avi 0:39:00 jumping off ship onto Sin.
ffx_0016.avi 0:43:10 FMV: Sin crashing outside Bevelle.
ffx_0016.avi 0:46:00 Meeting Rin in corridor, he tells about Yuna's mother and Lord Braska.
ffx_0016.avi 0:47:45 Tidus and Yuna have talk on top of ship, and Yuna figures out how to deal with Yu Yevon.
ffx_0016.avi 0:49:40 FMV: Sin rising.
ffx_0016.avi 0:51:50 FMV: face-off with Sin. Battle.
ffx_0016.avi 0:55:00 FMV: Entering Sin.
ffx_0016.avi 0:56:20 Disembarking airship and heading in.
ffx_0016.avi 0:58:00 Last confrontation with Seymour.
ffx_0016.avi 1:06:00 Sending Seymour.

Yu Yevon (File 17)

ffx_0017.avi 0:00:00 City of the Dead.
ffx_0017.avi 0:02:00 Annoying Crystal mini-game.
ffx_0017.avi 0:05:25 Arriving in Dream-Zanarkand, meeting Jecht.
ffx_0017.avi 0:09:00 Jecht becomes Aeon.
ffx_0017.avi 0:24:30 Jecht defeated.
ffx_0017.avi 0:27:20 Arrival of Yu Yevon.
ffx_0017.avi 0:42:30 Last Aeon defeated. Tidus says goodbye, then they fight Yu Yevon.
ffx_0017.avi 0:49:00 Defeat Yu Yevon. Scene on Besaid Island.
ffx_0017.avi 0:51:00 Fayth disappearing.
ffx_0017.avi 0:52:45 Auron's Sending
ffx_0017.avi 0:54:45 FMV: Back atop airship, farewell to Aeons and Tidus.
ffx_0017.avi 0:59:00 Yuna back in Luca, speech at stadium.
ffx_0017.avi 1:00:00 Closing credits.
ffx_0017.avi 1:08:00 Glimpse of Tidus.