I'm having far too much fun tonight, in celebration of finishing my papers.





I may try again and work on tweaking the detail/color and stuff, but you get the general idea.



The next one expresses my deep and abiding love for Tidus. Apologies to those who don't mind his voice actor as much as I do.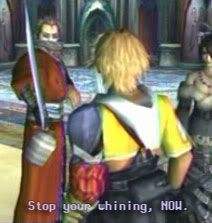 And the LJ userpic version:


(May be used if you credit me on userpics page!)