Some gamers are using a PS2 emulator to create stunning (and occasionally jaggy) screencaps of FFX. They don't have much anti-aliasing, which can look harsh, but also makes for crisp, high-detail screenshots with the higher-poly models.

Here's a thread on a Russian forum with a lot of FFX screenshots.

Muggy, this is where I found the super Lulu screenshot. Click to enlarge -- check out the eyelashes!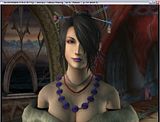 ETA: Actually, I'm not 100% sure whether these are snaps from the PCSX2 emulator, or whether these are screencaps of FFX playing on the PS3. Here is another thread that's definitely PCSX2 FFX screenshots, but you have to register for the forum to click on the thumbnails and get the full-sized versions.